Are you planning a funeral and want an eco-friendly casket for the service?  Our seagrass casket is ideal for those who want an attractive eco-friendly casket for their loved one's funeral service.
Families that are looking for an environmentally friendly way to bury their loved one purchase this casket.  Each seagrass casket is handmade and is suitable for burial or as a cremation container.  This casket is mostly made from the willow plant, but we also weave in seagrass to make this casket standout.  The willow and seagrass used in this casket make it extra durable.  It will hold someone who weighed up to 350lbs and who stood 6'5" tall.
 We will ship this casket for free to the funeral home you are using for the service.  Personalize our seagrass casket to make your loved ones goodbye service even more memorable.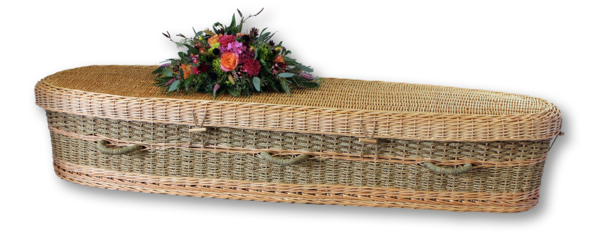 Features of the Seagrass Casket
suitable for use as a burial casket or a cremation container
carefully handcrafted from biodegradable materials that will break down naturally over time when buried
made from willow and seagrass rope
fully lined unbleached cotton interior
holds a person up to 350lbs and 6'5" tall.
free cotton pillow and privacy shield
fast free shipping (put the address of the funeral home hosting the funeral and we will send the casket there)
How Our Seagrass Casket Is Made
This casket uses the same willow from our willow casket, but we also weave seagrass into the casket. The top is slightly rounded which adds to the appearance of this casket.  
We also hand-stitch the interior of this casket, using unbleached cotton and provide you with a pillow and privacy shield free of charge.
This casket is suitable for burial, or as a cremation container.
Looking for other eco-friendly yet affordable caskets? Click here to see our other products!
Eco-Friendly Options
Biodegradable caskets & urns for sea/land burials.
Variety
Dozens of options to find the perfect memory gift for your loved one.
Express shipping
Same day shipping before 12pm EST on most orders.
Seagrass Casket
{"id":751361359970,"title":"Seagrass Casket","handle":"seagrass-casket","description":"\u003c!-- Created with Shogun. --\u003e\n\u003cdiv class=\"shogun-root\" data-shogun-id=\"5b60b06288cf9500675e2266\" data-shogun-site-id=\"c8b08e5f-0639-4a0e-9c17-923f672e5b22\" data-shogun-page-id=\"5b60b06288cf9500675e2266\" data-shogun-page-version-id=\"5b61cf8700c34500728e23c9\" data-region=\"main\"\u003e\n\u003cdiv id=\"s-a6efe9dc-3259-4888-ac17-1cf0d8cfaab5\" class=\"shg-c \"\u003e\n\u003cdiv class=\"shogun-heading-component\"\u003e\n\u003ch1\u003e\n \n The Seagrass Casket\n \n \u003c\/h1\u003e\n\u003c\/div\u003e\n\u003c\/div\u003e\n\u003cdiv id=\"s-496d70a5-bdb7-46db-a774-d2af043385d7\" class=\"shg-c \"\u003e\n\u003cp\u003eAre you planning a funeral and want an eco-friendly casket for the service?  Our seagrass casket is ideal for those who want an attractive eco-friendly casket for their loved one's funeral service.\u003c\/p\u003e\n\u003cp\u003eFamilies that are looking for an environmentally friendly way to bury their loved one purchase this casket.  Each seagrass casket is handmade and is suitable for burial or as a cremation container.  This casket is mostly made from the willow plant, but we also weave in seagrass to make this casket standout.  The willow and seagrass used in this casket make it extra durable.  It will hold someone who weighed up to 350lbs and who stood 6'5\" tall.\u003c\/p\u003e\n\u003cp\u003e We will ship this casket for free to the funeral home you are using for the service.  Personalize our seagrass casket to make your loved ones goodbye service even more memorable. \u003c\/p\u003e\n\u003c\/div\u003e\n\u003cdiv id=\"s-3cc12505-e06b-43f4-b2c2-f45854f23275\" class=\"shg-c shg-align-center\"\u003e\n\u003cdiv class=\"shogun-image-container\"\u003e\n\u003cimg src=\"https:\/\/i.shgcdn.com\/b7eee5e8-b396-47a8-8de1-4dbe1ada885e\/-\/format\/auto\/-\/preview\/3000x3000\/-\/quality\/lighter\/\" width=\"\" height=\"\" alt=\"seagrass casket\" class=\"shogun-image img-responsive \"\u003e\n\u003cdiv class=\"shogun-image-overlay shg-middle-center\" style=\"\"\u003e\u003c\/div\u003e\n\u003c\/div\u003e\n\u003c\/div\u003e\n\u003cdiv id=\"s-865f9608-ed2b-4570-93d5-2fa26710bee2\" class=\"shg-c \"\u003e\n\u003cdiv\u003e\n\u003cul class=\"shogun-tabs shogun-rounded\" role=\"tablist\"\u003e\n\u003cli class=\"shogun-tab shogun-tab-active\"\u003e\n\u003cdiv class=\"shogun-tab-box\"\u003e\n\u003cspan class=\"shogun-tab-title\"\u003e\n Features\n \u003c\/span\u003e\n\u003c\/div\u003e\n\u003cdiv class=\"shogun-tab-border\"\u003e\u003c\/div\u003e\n\u003c\/li\u003e\n\u003cli class=\"shogun-tab\"\u003e\n\u003cdiv class=\"shogun-tab-box\"\u003e\n\u003cspan class=\"shogun-tab-title\"\u003e\n Additional Info\n \u003c\/span\u003e\n\u003c\/div\u003e\n\u003c\/li\u003e\n\u003c\/ul\u003e\n\u003cdiv class=\"shogun-tabs-body shogun-rounded\"\u003e\n\u003cdiv class=\"shogun-tab-content shogun-tab-active\"\u003e\n\u003cdiv id=\"s-0264218b-8683-4d6c-a3fe-62d69074b8d7\" class=\"shg-c \"\u003e\n\u003cp\u003e\n\u003cspan style=\"font-size:22px\"\u003eFeatures of the Seagrass Casket\u003c\/span\u003e\u003c\/p\u003e\n\u003cul\u003e\n\u003cli\u003esuitable for use as a burial casket or a cremation container\u003c\/li\u003e\n\u003cli\u003ecarefully handcrafted from biodegradable materials that will break down naturally over time when buried\u003c\/li\u003e\n\u003cli\u003emade from willow and seagrass rope\u003c\/li\u003e\n\u003cli\u003efully lined unbleached cotton interior\u003c\/li\u003e\n\u003cli\u003eholds a person up to 350lbs and 6'5\" tall.\u003c\/li\u003e\n\u003cli\u003efree cotton pillow and privacy shield\u003c\/li\u003e\n\u003cli\u003efast free shipping (\u003cem\u003eput the address of the funeral home hosting the funeral and we will send the casket there\u003c\/em\u003e)\u003c\/li\u003e\n\u003c\/ul\u003e\n\u003c\/div\u003e\n\u003c\/div\u003e\n\u003cdiv class=\"shogun-tab-content\"\u003e\n\u003cdiv id=\"s-18f4bfae-95c1-4562-9489-26a59916c5ed\" class=\"shg-c \"\u003e\n\u003cp\u003e\n\u003cspan style=\"font-size:24px\"\u003eHow Our Seagrass Casket Is Made\u003c\/span\u003e\u003c\/p\u003e\n\u003cp\u003eThis casket uses the same willow from our \u003ca href=\"https:\/\/www.funeraldirect.shop\/products\/willow-casket\"\u003ewillow casket\u003c\/a\u003e, but we also weave seagrass into the casket. The top is slightly rounded which adds to the appearance of this casket.  \u003c\/p\u003e\n\u003cp\u003eWe also hand-stitch the interior of this casket, using unbleached cotton and provide you with a pillow and privacy shield free of charge.\u003c\/p\u003e\n\u003cp\u003eThis casket is suitable for burial, or as a cremation container.\u003c\/p\u003e\n\u003cp\u003eLooking for other eco-friendly yet affordable caskets? \u003ca href=\"https:\/\/www.funeraldirect.shop\/collections\/casket\"\u003e\n\u003cstrong\u003eClick here to see our other products!\u003c\/strong\u003e\u003c\/a\u003e\u003c\/p\u003e\n\u003c\/div\u003e\n\u003c\/div\u003e\n\u003c\/div\u003e\n\u003c\/div\u003e\n\u003c\/div\u003e\n\u003c\/div\u003e","published_at":"2018-04-21T18:02:21-04:00","created_at":"2018-04-21T18:09:32-04:00","vendor":"Passages","type":"casket","tags":["biodegradable casket","cremation container"],"price":149999,"price_min":149999,"price_max":149999,"available":true,"price_varies":false,"compare_at_price":null,"compare_at_price_min":0,"compare_at_price_max":0,"compare_at_price_varies":false,"variants":[{"id":8135289340002,"title":"5ft 9in","option1":"5ft 9in","option2":null,"option3":null,"sku":"","requires_shipping":true,"taxable":true,"featured_image":{"id":2529490600034,"product_id":751361359970,"position":2,"created_at":"2018-04-21T18:09:39-04:00","updated_at":"2018-06-24T18:42:26-04:00","alt":"Seagrass Casket","width":3000,"height":1234,"src":"https:\/\/cdn.shopify.com\/s\/files\/1\/0002\/6342\/1963\/products\/Horiz-Seagrass-Casket-3Q-3000x1234-Clear.png?v=1529880146","variant_ids":[8135289340002,8135289372770]},"available":true,"name":"Seagrass Casket - 5ft 9in","public_title":"5ft 9in","options":["5ft 9in"],"price":149999,"weight":31751,"compare_at_price":null,"inventory_management":null,"barcode":"","featured_media":{"alt":"Seagrass Casket","id":3595936596066,"position":2,"preview_image":{"aspect_ratio":2.431,"height":1234,"width":3000,"src":"https:\/\/cdn.shopify.com\/s\/files\/1\/0002\/6342\/1963\/products\/Horiz-Seagrass-Casket-3Q-3000x1234-Clear.png?v=1570133884"}}},{"id":8135289372770,"title":"6ft 5in","option1":"6ft 5in","option2":null,"option3":null,"sku":"","requires_shipping":true,"taxable":true,"featured_image":{"id":2529490600034,"product_id":751361359970,"position":2,"created_at":"2018-04-21T18:09:39-04:00","updated_at":"2018-06-24T18:42:26-04:00","alt":"Seagrass Casket","width":3000,"height":1234,"src":"https:\/\/cdn.shopify.com\/s\/files\/1\/0002\/6342\/1963\/products\/Horiz-Seagrass-Casket-3Q-3000x1234-Clear.png?v=1529880146","variant_ids":[8135289340002,8135289372770]},"available":false,"name":"Seagrass Casket - 6ft 5in","public_title":"6ft 5in","options":["6ft 5in"],"price":149999,"weight":34019,"compare_at_price":null,"inventory_management":"shopify","barcode":"","featured_media":{"alt":"Seagrass Casket","id":3595936596066,"position":2,"preview_image":{"aspect_ratio":2.431,"height":1234,"width":3000,"src":"https:\/\/cdn.shopify.com\/s\/files\/1\/0002\/6342\/1963\/products\/Horiz-Seagrass-Casket-3Q-3000x1234-Clear.png?v=1570133884"}}}],"images":["\/\/cdn.shopify.com\/s\/files\/1\/0002\/6342\/1963\/products\/Horiz-Seagrass-Casket-3000x1234-Clear.png?v=1529880141","\/\/cdn.shopify.com\/s\/files\/1\/0002\/6342\/1963\/products\/Horiz-Seagrass-Casket-3Q-3000x1234-Clear.png?v=1529880146","\/\/cdn.shopify.com\/s\/files\/1\/0002\/6342\/1963\/products\/Seagrass_Casket_Full.png?v=1529880092","\/\/cdn.shopify.com\/s\/files\/1\/0002\/6342\/1963\/products\/Seagrass_Casket_Toggle.png?v=1529880162","\/\/cdn.shopify.com\/s\/files\/1\/0002\/6342\/1963\/products\/Seagrass_Casket_Handle-829x800.png?v=1529880151"],"featured_image":"\/\/cdn.shopify.com\/s\/files\/1\/0002\/6342\/1963\/products\/Horiz-Seagrass-Casket-3000x1234-Clear.png?v=1529880141","options":["Size"],"media":[{"alt":"Seagrass Casket","id":3595936530530,"position":1,"preview_image":{"aspect_ratio":2.431,"height":1234,"width":3000,"src":"https:\/\/cdn.shopify.com\/s\/files\/1\/0002\/6342\/1963\/products\/Horiz-Seagrass-Casket-3000x1234-Clear.png?v=1570133884"},"aspect_ratio":2.431,"height":1234,"media_type":"image","src":"https:\/\/cdn.shopify.com\/s\/files\/1\/0002\/6342\/1963\/products\/Horiz-Seagrass-Casket-3000x1234-Clear.png?v=1570133884","width":3000},{"alt":"Seagrass Casket","id":3595936596066,"position":2,"preview_image":{"aspect_ratio":2.431,"height":1234,"width":3000,"src":"https:\/\/cdn.shopify.com\/s\/files\/1\/0002\/6342\/1963\/products\/Horiz-Seagrass-Casket-3Q-3000x1234-Clear.png?v=1570133884"},"aspect_ratio":2.431,"height":1234,"media_type":"image","src":"https:\/\/cdn.shopify.com\/s\/files\/1\/0002\/6342\/1963\/products\/Horiz-Seagrass-Casket-3Q-3000x1234-Clear.png?v=1570133884","width":3000},{"alt":"Seagrass Casket","id":3694951596130,"position":3,"preview_image":{"aspect_ratio":3.113,"height":257,"width":800,"src":"https:\/\/cdn.shopify.com\/s\/files\/1\/0002\/6342\/1963\/products\/Seagrass_Casket_Full.png?v=1570154689"},"aspect_ratio":3.113,"height":257,"media_type":"image","src":"https:\/\/cdn.shopify.com\/s\/files\/1\/0002\/6342\/1963\/products\/Seagrass_Casket_Full.png?v=1570154689","width":800},{"alt":"Seagrass Casket","id":3595936661602,"position":4,"preview_image":{"aspect_ratio":1.0,"height":800,"width":800,"src":"https:\/\/cdn.shopify.com\/s\/files\/1\/0002\/6342\/1963\/products\/Seagrass_Casket_Toggle.png?v=1570133884"},"aspect_ratio":1.0,"height":800,"media_type":"image","src":"https:\/\/cdn.shopify.com\/s\/files\/1\/0002\/6342\/1963\/products\/Seagrass_Casket_Toggle.png?v=1570133884","width":800},{"alt":"Seagrass Casket","id":3595936727138,"position":5,"preview_image":{"aspect_ratio":1.036,"height":800,"width":829,"src":"https:\/\/cdn.shopify.com\/s\/files\/1\/0002\/6342\/1963\/products\/Seagrass_Casket_Handle-829x800.png?v=1570133884"},"aspect_ratio":1.036,"height":800,"media_type":"image","src":"https:\/\/cdn.shopify.com\/s\/files\/1\/0002\/6342\/1963\/products\/Seagrass_Casket_Handle-829x800.png?v=1570133884","width":829}],"content":"\u003c!-- Created with Shogun. --\u003e\n\u003cdiv class=\"shogun-root\" data-shogun-id=\"5b60b06288cf9500675e2266\" data-shogun-site-id=\"c8b08e5f-0639-4a0e-9c17-923f672e5b22\" data-shogun-page-id=\"5b60b06288cf9500675e2266\" data-shogun-page-version-id=\"5b61cf8700c34500728e23c9\" data-region=\"main\"\u003e\n\u003cdiv id=\"s-a6efe9dc-3259-4888-ac17-1cf0d8cfaab5\" class=\"shg-c \"\u003e\n\u003cdiv class=\"shogun-heading-component\"\u003e\n\u003ch1\u003e\n \n The Seagrass Casket\n \n \u003c\/h1\u003e\n\u003c\/div\u003e\n\u003c\/div\u003e\n\u003cdiv id=\"s-496d70a5-bdb7-46db-a774-d2af043385d7\" class=\"shg-c \"\u003e\n\u003cp\u003eAre you planning a funeral and want an eco-friendly casket for the service?  Our seagrass casket is ideal for those who want an attractive eco-friendly casket for their loved one's funeral service.\u003c\/p\u003e\n\u003cp\u003eFamilies that are looking for an environmentally friendly way to bury their loved one purchase this casket.  Each seagrass casket is handmade and is suitable for burial or as a cremation container.  This casket is mostly made from the willow plant, but we also weave in seagrass to make this casket standout.  The willow and seagrass used in this casket make it extra durable.  It will hold someone who weighed up to 350lbs and who stood 6'5\" tall.\u003c\/p\u003e\n\u003cp\u003e We will ship this casket for free to the funeral home you are using for the service.  Personalize our seagrass casket to make your loved ones goodbye service even more memorable. \u003c\/p\u003e\n\u003c\/div\u003e\n\u003cdiv id=\"s-3cc12505-e06b-43f4-b2c2-f45854f23275\" class=\"shg-c shg-align-center\"\u003e\n\u003cdiv class=\"shogun-image-container\"\u003e\n\u003cimg src=\"https:\/\/i.shgcdn.com\/b7eee5e8-b396-47a8-8de1-4dbe1ada885e\/-\/format\/auto\/-\/preview\/3000x3000\/-\/quality\/lighter\/\" width=\"\" height=\"\" alt=\"seagrass casket\" class=\"shogun-image img-responsive \"\u003e\n\u003cdiv class=\"shogun-image-overlay shg-middle-center\" style=\"\"\u003e\u003c\/div\u003e\n\u003c\/div\u003e\n\u003c\/div\u003e\n\u003cdiv id=\"s-865f9608-ed2b-4570-93d5-2fa26710bee2\" class=\"shg-c \"\u003e\n\u003cdiv\u003e\n\u003cul class=\"shogun-tabs shogun-rounded\" role=\"tablist\"\u003e\n\u003cli class=\"shogun-tab shogun-tab-active\"\u003e\n\u003cdiv class=\"shogun-tab-box\"\u003e\n\u003cspan class=\"shogun-tab-title\"\u003e\n Features\n \u003c\/span\u003e\n\u003c\/div\u003e\n\u003cdiv class=\"shogun-tab-border\"\u003e\u003c\/div\u003e\n\u003c\/li\u003e\n\u003cli class=\"shogun-tab\"\u003e\n\u003cdiv class=\"shogun-tab-box\"\u003e\n\u003cspan class=\"shogun-tab-title\"\u003e\n Additional Info\n \u003c\/span\u003e\n\u003c\/div\u003e\n\u003c\/li\u003e\n\u003c\/ul\u003e\n\u003cdiv class=\"shogun-tabs-body shogun-rounded\"\u003e\n\u003cdiv class=\"shogun-tab-content shogun-tab-active\"\u003e\n\u003cdiv id=\"s-0264218b-8683-4d6c-a3fe-62d69074b8d7\" class=\"shg-c \"\u003e\n\u003cp\u003e\n\u003cspan style=\"font-size:22px\"\u003eFeatures of the Seagrass Casket\u003c\/span\u003e\u003c\/p\u003e\n\u003cul\u003e\n\u003cli\u003esuitable for use as a burial casket or a cremation container\u003c\/li\u003e\n\u003cli\u003ecarefully handcrafted from biodegradable materials that will break down naturally over time when buried\u003c\/li\u003e\n\u003cli\u003emade from willow and seagrass rope\u003c\/li\u003e\n\u003cli\u003efully lined unbleached cotton interior\u003c\/li\u003e\n\u003cli\u003eholds a person up to 350lbs and 6'5\" tall.\u003c\/li\u003e\n\u003cli\u003efree cotton pillow and privacy shield\u003c\/li\u003e\n\u003cli\u003efast free shipping (\u003cem\u003eput the address of the funeral home hosting the funeral and we will send the casket there\u003c\/em\u003e)\u003c\/li\u003e\n\u003c\/ul\u003e\n\u003c\/div\u003e\n\u003c\/div\u003e\n\u003cdiv class=\"shogun-tab-content\"\u003e\n\u003cdiv id=\"s-18f4bfae-95c1-4562-9489-26a59916c5ed\" class=\"shg-c \"\u003e\n\u003cp\u003e\n\u003cspan style=\"font-size:24px\"\u003eHow Our Seagrass Casket Is Made\u003c\/span\u003e\u003c\/p\u003e\n\u003cp\u003eThis casket uses the same willow from our \u003ca href=\"https:\/\/www.funeraldirect.shop\/products\/willow-casket\"\u003ewillow casket\u003c\/a\u003e, but we also weave seagrass into the casket. The top is slightly rounded which adds to the appearance of this casket.  \u003c\/p\u003e\n\u003cp\u003eWe also hand-stitch the interior of this casket, using unbleached cotton and provide you with a pillow and privacy shield free of charge.\u003c\/p\u003e\n\u003cp\u003eThis casket is suitable for burial, or as a cremation container.\u003c\/p\u003e\n\u003cp\u003eLooking for other eco-friendly yet affordable caskets? \u003ca href=\"https:\/\/www.funeraldirect.shop\/collections\/casket\"\u003e\n\u003cstrong\u003eClick here to see our other products!\u003c\/strong\u003e\u003c\/a\u003e\u003c\/p\u003e\n\u003c\/div\u003e\n\u003c\/div\u003e\n\u003c\/div\u003e\n\u003c\/div\u003e\n\u003c\/div\u003e\n\u003c\/div\u003e"}